In This Issue

Chapter P.R. Grant Application
In Progress CREIA SSA Certification
---
Social Networking


Please follow, like, and friend CREIA! And invite others to do the same. This helps promote the CREIA brand!
---
Quick Links
2018 Annual Conference
---
Board of Directors

Kenneth Collins, CCI
Chairman of the Board
Greg S. Terry, CCI
Vice Chairman & Region 7 Director

John Gamache, CCI
Chief Financial Officer & Region 8 Director

Steve Carroll, MCI
Secretary

David Pace, MCI
Immediate Past Chairman

Michael Dugan, MCI
State Director

Richard Zak, MCI
State Director

Steve Zivolich, CCI
State Director

Dan Sherrets, CCI
Region Two Director

Bret Husted, CCI
Region Three Director

Bob Guyer, MCI
Region Six Director
---
COMMITTEE CHAIRS

Steve John, MCI, IF
Bylaws & SOP/Contract Committees

Chapter Relations Committee

Neal Muckler, MCI, IF
Education Committee

Bob Guyer, MCI, IF &
Sam Jabuka, CCI, IF
2018 & 2019 Annual
Conference Committees
Michael Dugan, MCI
Ethics Committee
Greg S. Terry, CCI
Finance & Policy and Oversight

David Pace, MCI
Legislation & Nominations Committees
Richard Zak, MCI
Membership Committee

Scott Swickard
Public Relations/Marketing Committee

Craig Funabashi, MCI
Publications Committee

Matthew Harper, CCI
Social Media Task Force &
Website Committee

Gunnar Alquist, CCI
Technical Information Exchange
(TIE) Moderator
Neal Muckler, MCI, IF
SSA Certification Committee
---
Premier Affiliate Member
Green Home Solutions of
Northern California

LiftMaster
United Infrared
---
Educational Affiliate Members
Allied Business Schools
Carson Dunlop & Associates Ltd.

Inspection Certification Associates (ICA)

National Swimming Pool Foundation
North American Deck & Railing Association
OnCourse Real Estate dba American Home Inspectors Training
Professional Home Inspection Institute
---
Standard Affiliate Members
All Pro Insurance
Always Sparking Pool & Spa Inspections

Ed Daher Plastering
Forensic Stucco Consultant
English Pool Consulting
Green Home Solutions of the East Bay
IC Home Inspection Software
InspectorPRO Insurance
International Coe Council (ICC)
Imfuna
InspectionNews.net
InspectorPRO Insurance
John White Sewer Line Video Inspections
Rarefied Air Environmental
Spectacular Home Inspection System
Synergy Pool & Spa Inspections
Click here for the
CREIA Affiliate Directory
---
Vision
To protect lives, health and investments
---
Mission
The California Real Estate Inspection Association promotes excellence in the real estate inspection profession and is committed in supporting every member in achieving the highest level of expertise in the industry.
---
Chairman's Message
Ken Collins, Chairman of the Board
CREIA 2017-2018 Board of Directors
July, 2017

I am so honored to serve as Chairman of the Board for another year! Your CREIA Board of Directors is completing agenda items and looking forward to continuing work towards the overall association mission and goals and objectives during 2017-2018. We are also continuously open to ways of ensuring CREIA is the premier association for home inspectors in California.

As you are undoubtedly aware, it has been a very busy legislative year in Sacramento. There have been many proposals introduced this year that could change or alter our profession. The CREIA Legislative Committee is keeping a watchful eye and attending meetings or hearings on bills that have been introduced or that are in motion. We will be giving legislative updates frequently, but know that they can change daily.

CREIA's marketing and social media teams are always looking for new ways in promoting CREIA to the Real Estate community. The "flow rate" bags have been a great success with some agents now asking inspectors if they can have more. In late June, CREIA sent the press release, CREIA Urges Property Owners to Have All Guardrails Decks and Balconies Professionally Inspected to the PRNewswire. We have been posting general tips and chapter toolboxes on Instagram, Twitter, and Facebook, please "like," "friend," and "follow" CREIA and CREIA-posts. Doing so helps with brand awareness and promoting CREIA. Go to CREIA's Website <www.creia.org>, scroll to the bottom of the homepage, and click on the social media icons. If you don't have an account, they are quick and easy to create.

The education and membership committees are constantly working on assisting CREIA Associates towards becoming CREIA Certified Inspectors (CCIs). We have augmented CREIA's online CEC and non-CEC videos, one on the subject of report writing by Michael Casey. Associates are encouraged to take it prior to submitting reports to be reviewed, which is required for certification. I want to also take a moment to thank all of you that have taken the time to mentor Associates. We hope all members will take the time to participate on the Technical Information Exchange (TIE). Please don't hesitate to place your questions on the TIE--members from the corners of the state will benefit.

The California Earthquake Authority (CEA) and CREIA have been working very hard on creating the CREIA Certified Simplified Seismic Assessor (CCSSA). This is a special CREIA designation to perform specific seismic inspections. CCSSA inspections may allow homeowners to get a discounts on earthquake insurance and help houses better withstand the next big earthquake. We have had the CEA at our last few conferences offering the FEMA P-50 / QuakeGrade class. Our ultimate goal is to have Certified trainers throughout the state assisting members to obtain this certification to CREIA members only.

The Conference Committee is working on the 2018 Annual Conference to be held in Costa Mesa at the Westin South Coast Plaza, April 26th ~ 29th. This event is going to be great for CREIA inspectors and their spouses. We have a fantastic lineup of educational speakers and there are plenty of off site attractions for guests, such as the huge South Coast Plaza luxury shopping center and Disneyland only 20 minutes away!

I want to give a sincere thank you to the CREIA Staff, Board of Directors, and all of the Committee participants for their hard work and dedication in an effort to make CREIA the best home inspection association in the state.

I want to also thank all of the Chapter leaders who volunteer their time to help other CREIA members. If you have not yet volunteered to be a chapter leader, please do so, you will get more out of it than you put into it. This is a great place to learn and help fellow inspectors at the same time.

Thank you for your continued membership and participation. Please remember that this is a volunteer organization, we are always looking for assistance on various committees. You can feel free to contact the office or me for details. We welcome your participation!

Your humble Chairman,
Ken Collins, CCI

P.S. Wear your badge always and inform all agents you see about the benefit of using a CREIA inspector!
---
David Pace, MCI, Chair
Legislative Committee
July, 2017

Since our last update at the Spring Conference, Jerry Desmond and I have been monitoring many bills (The last print out the summaries of bills we were reviewing at was 60+ pages long.) working through the legislature. However, we have been concentrating our focus on three primary fronts.

SB 442 is a bill that is working its way through the committee process. The bill regards pool safety. It is backed by a variety of groups and associations. There are 22 registered groups in support of the bill. These include the "California Coalition for Children's Safety and Health", "Drowning Prevention Foundation," "Association of CA life Health Insurance Companies," "California Children's Hospital Association," "United Cerebral Palsy California" and many others. This bill would require verification of at least two of seven pool safety provisions when a new pool permit is pulled or when a pool is renovated. (Health and Safety Code Section 115921 - A pool is a "structure intended for swimming or recreational bathing with a water depth of over 18 inches, including in-ground and above ground structures, hot tubs, spas, portable spas, and nonportable wading ponds.") It also would require verification of at least two of seven safety provisions are in place when there is a transfer of a property containing a pool or spa. Jerry and I have had multiple meetings with the sponsors as well as CAR regarding this bill. Governor Brown vetoed this bill last year. The bill is basically the same as the one he vetoed. In its original form it would have required a home inspection to verify compliance of two of seven safety provisions. We have a verbal approval from the sponsor, pending approval of Assemblymember Newman - the author, to change "home inspection" to "appropriate inspection" in the bill. It is not in stone as yet. A change in language can come at any point in the committee process. There has been some question as to whether Governor Brown will sign the bill if it makes it to his deck, since he vetoed it last year. (FYI - The sponsor of the bill has told me this bill is one of many to come regarding various aspects of safety in the years to come.)

AB 1357 is a bill called the roofing bill or the "Home Guard" bill. We have had meetings with the sponsors and multiple meetings with CAR regarding this bill. The language of the bill has changed several times. Changes we proposed to the bill have been included in the bill and even more restrictive changes were added by CAR. We had a special meeting with CAR to clarify the intent of their changes. Jerry and I both came away satisfied with their changes and explanation. Again the changes are not in stone as yet. I have appeared before the Business and Professions Committee regarding this bill and will be traveling to Sacramento on July 10 to appear before the Senate Business, Professions and Economic Development Committee, which will be hearing this bill on that day.

- Please see attached
as it contains changes as we attempted to put this information together.

The question everyone is wondering about is licensing... nothing this year. But the time to thinking and working on it is now. We have had several discussions with CAR and they have asked our opinion and input on the whole question of licensing. In fact they have suggested we do some thinking outside of the box. Are there ideas can we come up with, short of any licensing, that could be a benefit? (Some kind of registration, minimum requirements for a home inspector, CECs, Testing, etc.) We will likely put this question in high gear within the next few months.

Can you help?
CREIA needs to develop a "legislative sounding board." A small group who can read through legislation (primarily amended legislation) and give their take on what it means and how it affects our industry. The turnaround would need to be quick. (We sometimes have to reply the next day.) We need people who can think through issues and set aside emotions. (Sometimes tough to do if you know it affects how you and every home inspector in the state does business.) Example: Do I reject an idea because the person or group that came up with it is not on our happy face list? Sometimes we have to work with people we do not like or always agree with. If you are interested, please send an email detailing experience and/or desire as well as your contact information to [email protected].
---
From the Boardroom
Approved Motions 2016-2017
The following motions were approved during the 2016-2017 year. Future Board Meeting dates and all approved minutes are listed in the Member Center (the landing page when you login with your username and password).

July 8, 2016:
To approve the 2016-2017 Budget as proposed.
To approve the services as proposed for legislative monitoring by Desmond and Desmond with the caveat that the Executive Director will ask for a lowered fee.
To approve the amendment to the General Release form as proposed for commercial inspections.
To add an asterisk adjacent to the ASHI reciprocity policy that states, "additional testing may be required, inquire with ASHI."
To adopt the term Associate in place of Candidate for new members.

July 25, 2016:
N/A

August 22, 2016:
To eliminate the "Member" category (which does not currently effect any of the membership) and repeal where stipulated in the Bylaws and/or Policy and Procedures Manual.
To record four presentations during the Annual Conference for online use.

September 23, 2016:
To approve the proposal by the CEA for CREIA to establish an Earthquake/Seismic Inspector/Assessor Certification Program.
To approve the Conference Procedures to be placed in the CREIA Policy and Procedures Manual.
To approve the CREIA Chapter Public Relations Grant as proposed. The motion passed unanimously.
To provide conference recordings on CREIA.org and available to the membership for free and without CECs. The recordings may be offered to chapters to view during chapter meetings for CECs.

October 24, 2016:
N/A

December 5, 2016:
N/A

January 17, 2017:
To purchase 10,000 water flow bags to be "CREIA" customized.
To reimburse expenses for a member of the Membership Committee to take the NHIE examination.

January 30, 2017:
To approve the proposed changes to the CREIA Standard Residential Agreement.

March 20, 2017:
To rescind the current practice of charging chapters for Toolbox and other events and to only charge CEC fees at $10 per CEC for chapter toolboxes and other events if: CREIA handles registration (including processing credit cards) for the chapter event and/or the chapter wishes to co-sponsor the event with CREIA and/or offer ICC approval.
The Board reviewed the results of the 2017 award vote and ratified the results.
To align the CREIA Governance Documents as presented.
To spend $350 on the application for continuing education provider approval by the BRE.
To approve the slate of nominees as presented.
---
CREIA's 2018 Annual Conference

The CREIA Annual Conference has earned a well-deserved reputation as one of the most stimulating and worthwhile education opportunities for inspectors in California. Join the California Real Estate Inspection Association for its 2018 Annual Conference, Are Your Business and Inspection Skills Elevated for New Technologies & Energy Systems?

The 2018 Annual Conference will be held April 27-29, 2018 at the Westin South Coast Plaza, Costa Mesa, California!
---
Chapter Spotlight: Orange County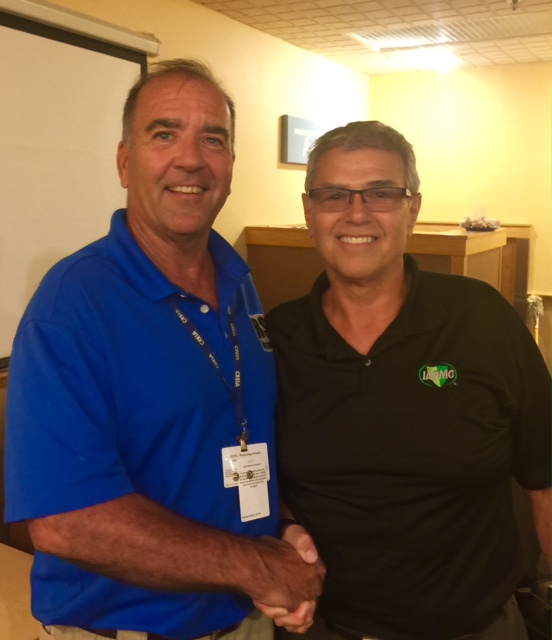 This is a picture at the July chapter Meeting where Bill Bryan, President of the Orange County Chapter, is thanking guest speaker Dwight Perkins, Senior Vice President of Field Operations, for the International Association of Plumbing and Mechanical Officials (IAPMO). Mr. Perkins has been with IAPMO since January 2002.

Mr. Perkins oversees the code adoption efforts of 8 IAPMO Field Service managers including those in the United States, Canada, and Caribbean as well as directly working with the state and city code agencies in several Western States.

Me. Perkins spoke to the Chapter about recent changes to code.


---
Silicon Valley Chapter Toolbox: Stucco * Drywall * Structural Conditions * Roofs

Date and Time:
Saturday, July 29, 2017, 8:00 a.m. to 3:45 p.m.
(Not Friday as previously noted!)

Agenda:
Registration 8 a.m. to 8:30 a.m.
Seminar 8:30 a.m. to 3:45 p.m.
Break 10:30 a.m.
Lunch 12:40 p.m. to 1:30 p.m.
Break 2:30 p.m.

Location:
Unitarian Universalist Church of Palo Alto, 505 E Charleston Rd, Palo Alto, CA 94306

Registration, and CECs:
Paid SV ASHI/CREIA Chapter Members $140
GGASH Members $158
All Others $175
Register via email with Steve Fishman, CCI at [email protected]
Send checks to SV CREIA/ASHI c/o Bill Crook, 2262 Carmelita Drive, San Carlos, CA 94070
6 CECs

Questions:
Steve Fishman or Bill Crook 650-799-3310
---
Press/PR/Marketing

CREIA's Marketing and PR Committee suggests to click here to review the press release entitled, "CREIA Urges Property Owners to Have All Guardrails Decks and Balconies Professionally Inspected," written by Skip Walker, MCI, IF and approved by the National Deck and Railing Association.
We hope other members will get involved in this important effort in continuing promoting CREIA and CREIA Certified Inspectors through the media to reach California Realtors and the public.
Social Media Update
Before launching the CREIA social media campaign, the office had two goals in mind. The first was to promote CREIA Home Inspectors on all social media platforms as much as possible. The second was to inform home inspectors across the country of CREIA's amazing educational opportunities such as toolboxes and promoting the Annual Conference.

CREIA social media has been booming since our launch earlier this year. With a combined following of 400+ real estate agents, home inspectors, and interested clients on all our social media accounts, we can say with confidence that more people are learning about CREIA and what an amazing service we provide. Due to the use of AdWords, the CREIA 'Find and Inspector" page has been clicked on 1,172 times by the general public.

We are constantly working on new creative posts to continue to spark people's interest in the home inspection field. Our upcoming social media campaign will highlight each speaker for the Annual Conference, their personal bio, and the topic they will be speaking on at the conference.

We strongly encourage all our members to follow/like us on Facebook, Instagram, and Twitter. We promise to follow back!


---
Educational Opportunities with CREIA Approved Educators

Looking for Education? Here is a listing of CREIA Approved Education Providers
For more information visit: https://www.creia.org/approved-education

American Home Inspectors Training Institute (AHIT)
ASHI
BPI
Carson Dunlop
CREIA
CREIA/ASHI Chapters
Home Inspection University
IAPMO
Inspection Certification Associates (ICA)
ICC
Michael Casey Associates (MCA)
McKissock 100% Education
Monroe Infrared
NADRA
National Swimming Pool Foundation
PDG&E
Professional Home Inspection Institute
Simpson Strong Tie
SoCal Edison
https://www.laddersafetytraining.org/
Trane
United Infrared

---
On Your Way to Certification

Associate Members - You now have an Associates' Member Center (landing page upon entering your username and password) where we have posted resources and information and will continue to augment this center based on your needs. Have questions or need assistance? Please let us know by emailing at [email protected].
---
Chapter Leaders:
This is an early announcement so that you have time to prepare

Chapter Leaders: Apply for Funds -

January 10 deadline
The Board of Directors voted to approve a $5000 Chapter PR grant fund for a new CREIA Chapter PR Grant program to assist CREIA Chapters in grass roots public relations efforts. Chapters can apply for grant funds for exhibiting and public relations activities. The PR Committee will receive the applications and issue grants to Chapters up to $5,000.

Grand funds will be used to support a project, program or event with the purpose of:
a. Gaining Chapter membership (and/or)
b. Promoting the CREIA brand and CREIA members

A few ideas funds can be used for:

Chapter pull-up banner and branded materials

Exhibiting fees at local CAR expos or other events

Memberhip fees for your chapter to be affiliate members at local CAR associations

Advertising in publications (magazines, newspapers, online publications)

Local CAR association affiliate dues

Facebook ads, Google Adwords and more!

Click here for full details.
CREIA Chapter PR Grant Application 2017-2018
---
In Development: CREIA SSA Certification

CREIA has been working closely with the California Earthquake Authority (CEA) and the Applied Technology Council (ATC) to create a CREIA Simplified Seismic Assessment (SSA) Certification. The bones of the program are now set and the education is under development. We look forward to keeping you up to date on this exciting program!
---
As reported by Ken Collins, CCI, Chairman of the Board, CREIA is working towards the Strategic Plan. We hope that you will get involved on a committee, on the Board of Directors with CREIA or a CREIA Chapter, and attend CREIA events. We look forward to your participation.

Vision

To protect lives, health and investments

Purposes

The Association was formed for the purpose of engaging in any lawful act or activity for which a nonprofit corporation may be organized under the law, including but not limited to the following
a) Planning, developing, and overseeing professional opportunities for members and others to achieve the highest level of respect for the real estate inspection profession;
b) Establishing, promoting, and maintaining professional standards and qualifications;
c) Communicating the ethics, standards, purposes, goals, and accomplishments of CREIA to its membership, government, and the general public;
d) Developing, reviewing, publishing, and presenting technical and educational materials;
e) Developing, maintaining, and enhancing membership growth and retention programs;
f) Promoting and enhancing relationships with other associations, governmental agencies, standards organizations, and the general public.
Mission

The California Real Estate Inspection Association promotes excellence in the real estate inspection profession and is committed in supporting every member in achieving the highest level of expertise in the industry.

Core Values

Integrity - No cutting corners, no compromise, persevering
Competence - Professional knowledge and expertise
Belonging - Among the leaders advancing high standards through collaboration
Passion - For serving and protecting our clients