CREIA Background Check Program Implementation
May 2019
CREIA is responsible for enhancing consumer protection and promoting public awareness. We are entrusted to be in peoples' private homes, at times alone with their personal property, families, and/or personal information.
CREIA leadership and management have worked hard on the important topic of instituting meaningful background checks of our members. We are ready at this time to join other trusted public service professions and organizations, such as municipal employees, educators, law enforcement and safety officers, Realtors, structural pest control board-licensed contractors, and many other groups and organizations too numerous to list here, by vetting our members. We believe this will be a valuable member benefit in that Realtors and others will feel confident and secure knowing that CREIA members have agreed to this. 
CREIA leadership has spoken with leaders at CAR and there is mutual agreement that actively marketing this added credential will raise the standard of CREIA inspectors even more and lead to more referrals by Realtors to CREIA inspectors. 
The Mission, Vision, and Purpose of CREIA states that our purpose and our responsibility toward our members and the public is 'To protect lives, health, and investments.' Our organization's website goes on to state that a primary reason this Association was formed is for the purpose of engaging in lawful acts and activities for which a nonprofit corporation may be organized under the law, including;
- Planning, developing, and overseeing professional opportunities for members and others to achieve the highest level of respect for the real estate inspection profession
- Establishing, promoting, and maintaining professional standards and qualifications
- Communicating the ethics, standards, purposes, goals, and accomplishments of CREIA to its membership, government, and the general public
- Promoting and enhancing relationships with other associations, governmental agencies, standards organizations, and the general public
Sincerely,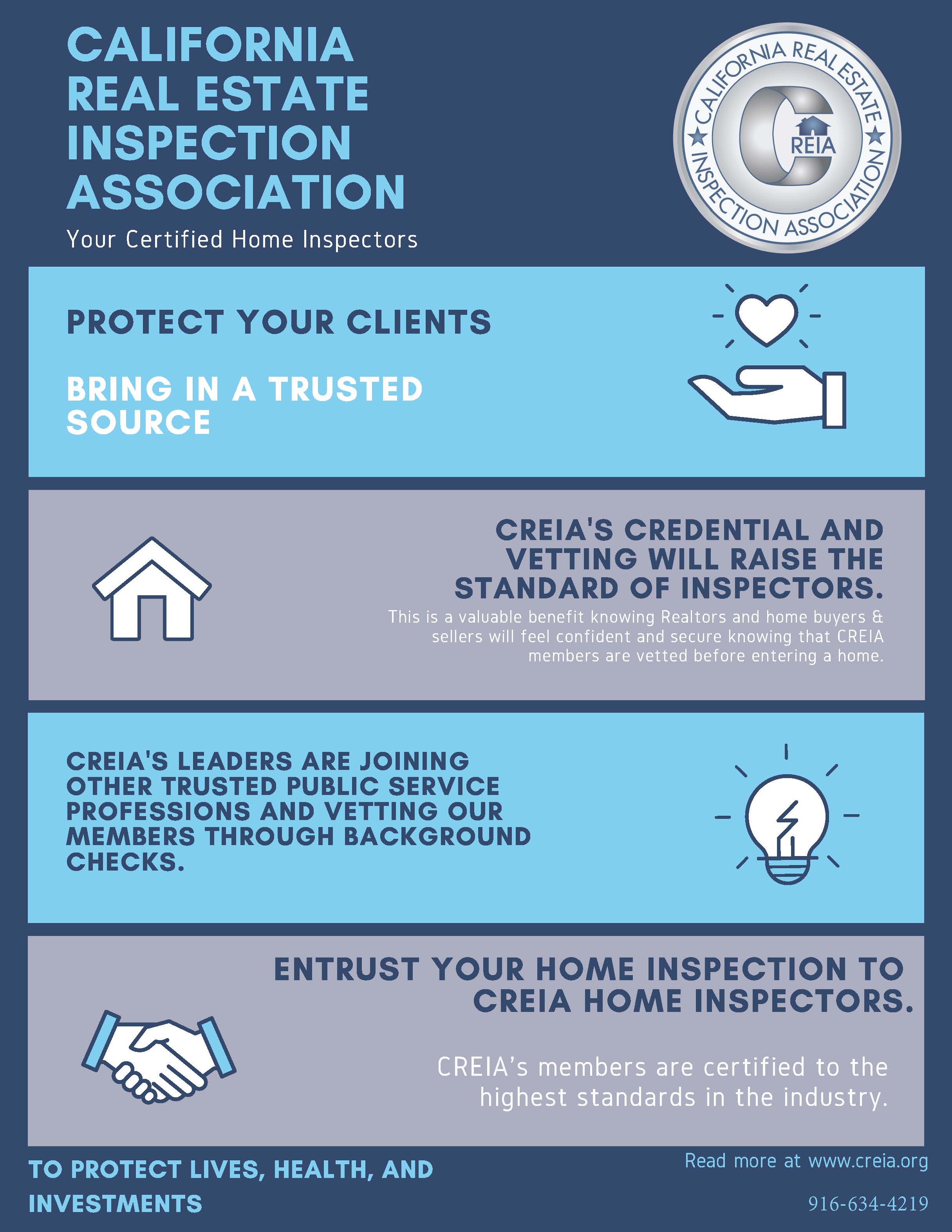 Sean McDonald              Richard Zak
Executive Director          Membership Committee Chair
Click here to download the educational flyer about our Background Check Program!