The first law that home inspectors should be familiar with is in the Business and Professions Code, sections 7195 et seq. This section of the law was originally created by Senate Bill 258, in the 1996 legislative session, and it has been in effect since January 1, 1997. This law defines home inspections and home inspectors, as well as imposing certain duties and constraints. A home inspection is defined as "a noninvasive, physical examination, performed for a fee in connection with a transfer, as defined in subdivision (e), of real property, of the mechanical, electrical, or plumbing systems or the structural and essential components of a residential dwelling of one to four units designed to identify material defects in those systems, structures and components. A material defect is defined as "a condition that significantly affects the value, desirability, habitability, or safety of the dwelling. Style or aesthetics shall not be considered in determining whether a system, structure, or component is defective." These definitions are also incorporated verbatim into CREIA's Standards of Practice, effective April 15, 1999.
Other sections of this law contain provisions similar to those in the CREIA Code of Ethics, including prohibitions on repairing properties on which an inspection was performed in the last 12 months, accepting kickbacks, and on payment of referral fees to agents. The law also has a 4-year statute of limitations on the inspector's liability, beginning with the date of the inspection.
This law and others can be viewed on the web at http://leginfo.legislature.ca.gov/faces/codes.xhtml;jsessionid=7891e7d050892b6645bdd86eb973. Click on Division 3: Professions and Vocations, then scroll down to section 7195-7199.
B&P 7195 was altered in 2001, and now includes language indicating that a home inspector may provide energy information as part of the inspection. The law that created those changes was Assembly Bill 1574. It also includes a provision mentioning home inspectors in the Public Resources Code. Section 25401.7 of that code and states that inspectors shall provide contact information on home energy for a nonprofit organization, a utility provider, or a government agency such as the State Energy Resources Conservation and Development commission.

Another important section of relevant law is found in the Civil Codes. Section 1102 contains the information regarding required disclosure by sellers and agents, and the language for the Real Estate Transfer Disclosure Statement. Section 1102.4 contains a provision whereby an expert can relieve the seller and agent of liability by providing "substitute disclosure" within the area of their expertise. The named types of experts include licensed engineers, land surveyors, geologists, structural pest control operators, contractors, or "other expert." The California Coalition of Home Inspectors (CCHI) has long been at odds with the California Association of Realtors (CAR) over the wording of this section. One point of contention in the discussions surrounding SB 1332 in the 2002 legislative session was the proposed re- wording of this section to include Certified Home Inspectors, and to make other clarifications regarding the expert's need to specify their intent that the report be used as substitute disclosure.
In addition to these pieces of legislation, there is also another body of law referred to as case law, wherein the interpretations of a court are found to have the effect of law. Perhaps the most historically significant example of such a law was the Easton decision in 1984, which spawned the disclosure requirements we now have in California.
History of Home Inspector Legislation:

Though there is no formal state-sponsored licensing of inspectors in California, there have been numerous pieces of legislation affecting inspectors over the last 2 decades. One of the key steps in regulating any business is a "Sunrise Study" which describes the business in question and addresses the need for regulation. There have been 3 sunrise studies on the home inspection business. The first study, widely discredited, was created in 1986.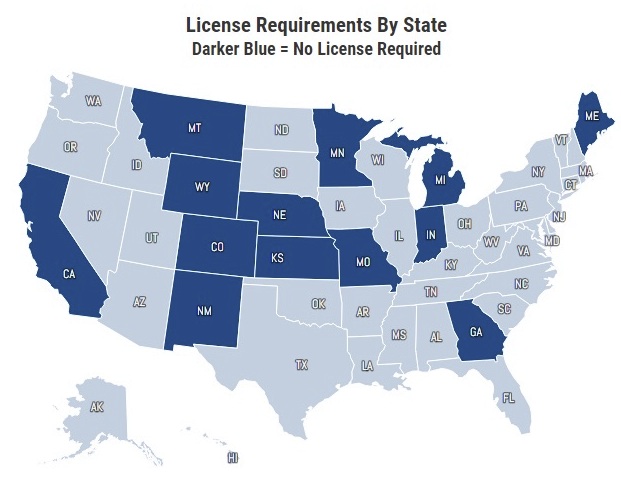 The next study was created by the California Association of Realtors in 1994. The third study was created by the California Coalition of Home Inspectors as part of the process for SB 1216 in 1999.
There are numerous other laws pertaining to real estate, contracting, small businesses, and building codes that all affect real estate inspection businesses. The California Coalition of Home Inspectors (CCHI) monitors legislation in all those areas, and reports to the CREIA membership through the Inspector magazine and through the local chapter representatives. The CCHI also maintains a highly effective lobbying presence in the Capitol. CCHI and CREI-PAC (the political action committee for home inspectors) are funded by your voluntary contributions.
The status and text of current bills can be viewed at http://leginfo.legislature.ca.gov/faces/codes.xhtml.
§ 7195 California Business & Professions Code -- Home Inspectors
Download § 7195 (PDF: 12KB)
Chapter 9.3. HOME INSPECTORS
Historical and Statutory Notes, 1996 Legislation
Section 1 of Stats.1996, c. 338 (S.B.258), provides:
"It is the intent of the Legislature in enacting this act to assure that consumers of home inspection services can rely upon the competence of home inspectors. It is the intent of the Legislature that, in ascertaining the degree of care that would be exercised by a reasonably competent home inspector pursuant to Section 7196 of the Business and Professions Code, the court may consider the standards of practice and code of ethics of the California Real Estate Inspection Association, the American Society of Home Inspectors, or other nationally recognized professional home inspection associations."
Business and Professions Code - BPC