Historic Homes
Inspecting Victorian Homes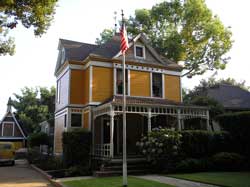 Q: We are hoping to buy an older Victorian home that we have fallen in love with, but so far, the seller has not done any inspections. What should we ask for him to do, and what do we need to look for in the reports before making an offer on the house? We are also unsure if this is something we have to pay for or if it is the responsibility of the owner.
A: Congratulations to you! A well preserved historic home in a charming neighborhood is a real find. If you aren't afraid of the occasional restoration project and have good planning skills and patience, then owning a turn of the century home can be a satisfying experience and offer great returns.
The Victorian home design intends to turn heads. Distinguished high-pitched roofs, porch entries, patterned exterior siding and prominent gabled facades attract light and shadow breaking up flat wall surfaces. Cut away bays decorated atop with delicate spindle work, windows and relief ornamentation draw the eye up and back around the decorated forms. The "Victorian" design blends European archetypes trendy during Queen Victoria's reign, from 1860 to 1900. Two early Victorian derivatives common in the South Bay include the "Queen Anne" and the "Stick" styles. As California continued to grow into the 19th century, sustained by a booming railroad industry, the Victorian home style maintained its popularity finally evolving into the purely American architectural expression of the California Arts and Crafts style.
A Victorian's charm and beauty can cloud the judgment of an anxious homebuyer. Before finalizing a purchase agreement it is important that you gather as much information about the home as possible. Keep in mind, in this hot real estate market, the Buyer is solely responsible for conducting all voluntary inspections and assessments of the property at their expenses. The Owner has little incentive to disclose imperfections and shortcomings of an older dwelling, especially in "As-Is" sales, and is not responsible for any inspections. Older structures often have damage or deferred maintenance that the Owner may not be aware of or has learned to live with. In addition, outdated building technologies are taken for granted and not disclosed with the reasoning that these characteristics are a part of the original construction and in their opinion does not affect the livability of the home.
Read the disclosure forms carefully, but be aware that the truths are only half told. Costs for thorough inspections of an older home can quickly add up. Yet, knowing the building's limitations, and budgeting for property improvements and maintenance, will alleviate future financial stress and provide greater return when the time comes to sell.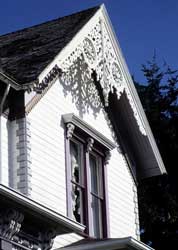 The house hunt should begin at City Hall, especially with an older home. You're looking for history here: paper trails, information and clues that weigh in on a homebuyer's final decision and shed light on the current Owner's knowledge of the property. Start at the Planning Department; ask if the home is on a historic register, find out it's zoning criteria, lot size and if there are any neighborhood development restrictions or new projects planned nearby. Since lot sizes for older property are usually larger and also have accessory buildings, find out if you can add livable square footage on the site through additions, in-laws or as detached accommodations and still maintain the required setbacks and limits. Can you build or rebuild the garage? What are the City's building restrictions or funding programs for altering a historic property and do they apply? Find out about nearby schools, fire stations, airports and parks if your realtor has not already provided this information to you.
The Building Department is the next stop. Collect all permit records and any house plans available. A continuous permit history assures a reliable standard of care and speaks volumes to a previous Owner's credibility. Disappointedly, many owners take home repair and additions into their own hands, or the hands of friends and family, or they may hire people that are not qualified resulting in a reduced quality of work. Beware of an older home that has little or no record history. A 100-year home has provided shelter for at least three long-term families if not more. Understanding the permit history will help you decipher clues the structure reveals as you walk through the home on inspection day. You may find yourself saying, "I didn't see a permit for this basement in-law unit" or, "Ah, here is the 1970 rear laundry addition." Understand the city's policy on "grand-fathering" past improvements. When you hold the key you take ownership and responsibly for all previous work done to the property, whether it's compliant or not, unsafe or unsound. Some cities offer grants for structural upgrades, tool lending programs and free energy audits. Ask about these and other resources available from the city.
If you get the chance to look at the home before inspection day take your notebook, records from the city, and review the "$10-$20K" big-ticket items with your agent. Look at the general condition of the roof, chimney, eaves, trim and siding; are there signs of recent damage, patch and repair? Check for signs of water damage and note musty smells and dank spaces. Try to operate as many original doors and windows as you can. Jump up and down and lean on porch and deck elements checking for soundness, and note if the electrical over-current protection has been upgraded from fuses to breakers. Turn on the heating system and detect odors. If you suspect previous remodeling, ask yourself, "Does the addition speak well to the style of the home and it's surroundings and of what quality is the workmanship?"
Most Victorian homes were built before the introduction of concrete in the mid twenties and were laid up on unreinforced brick foundation walls with mortar joints fashioned from local beach sand. These short foundation "stem walls" are delicate and can decompose quickly over time. Brush a finger over a mortar joint; ideally there should be little sand displacement. If the foundation is concrete, look for open cracks around the base and corner conditions. Be aware that the replacement costs for an unreinforced brick foundation are considerable and can easily run into a $100,000 sum depending on the scope of work.
If the Owner is available, ask these questions:
Do they have any house plans or permits?
Are there receipts or warranties for previous work or new equipment?
When was the last time the house was fumigated for pests?
Are the fireplaces operable, and when was the last time they were cleaned?
Do they know if the sewer line has been replaced or if there is a history of sewer problems?
Does power go out occasionally or any electrical upgrades performed?
Has any Seismic or foundation work been performed?
How long have they owned the property?
Who has lived at the address before them and for how long?
Why are they selling the home?
Do you know if the home has any historical significance?
You are required to have a structural termite inspection for a property transaction in California. The termite company's report will highlight structural damage due to pest activity and provide an estimate for repairing the work. As in all home improvement projects, you should obtain a minimum of three quotes to compare. Your Victorian, like others in the Bay Area were built of Mother Nature's finest building material - virgin redwood. California cleared much of her redwood forests from the 1830's to make room for agricultural land uses and supplied lumber for housing stock. This virgin redwood framing is literally irreplaceable, provides outstanding structural performance, and is naturally resistant to pest activity and moisture damage.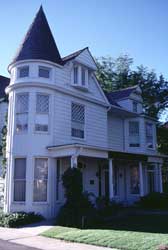 Although not mandatory, it is also advisable that you get a thorough home inspection as well. The home inspector's report can also defend your negotiated price and with your permission copies of the report can be forwarded to the Owner for their review and remedy. Some inspectors also provide city records search and estimates for notable conditions for additional fees. For an older home, recommendations for further evaluation of the chimney, roof, sewer or other building systems should be expected depending on the overall condition. Be present for the inspections, make an effort to have all your questions answered, and if possible schedule all the inspections the same day.
There are several resources for selecting an inspector in your area. The CREIA (California Real Estate Inspectors Association) or ASHI (American Society of Home Inspectors) websites are good sources. Members of these organizations are experienced, certificated, and have continuing education programs to support their membership. These websites also provide the minimum standard of care and the scope of services that you can expect from an inspection company. The AIA (American Institute of Architects) is another good source for architects specializing in the restoration and preservation of older homes. An architect, or structural engineer, can evaluate a weak foundation system and prescribe retrofits to withstand earthquake events. Before hiring an inspector, give them a call and ask about the number of years they have been in the business and what they did before they became a home inspector. Also, ask if they are familiar with inspecting older structures like Victorians and other similar homes in the surrounding neighborhoods. Many inspectors can provide cost estimates and collect public records for an additional fee.
As you interact with your inspectors and read their reports, pay special attention to the areas that are called out for attention since deferred maintenance can quickly evolve into costly repairs especially in an older house. I've already touched on the foundation, framing, window and door openings and the need to be aware of bad air and poor repair. Other areas prone to wear in a "Vic" are the chimney, roof, heating and electrical systems, the sewer connections and the plumbing distribution.
From the top down, older chimneys can be unstable, especially in our seismic zone, and a source of water infiltration if not properly capped. These chimneys serve aged hearths that have smaller fireboxes than our modern homes which if put to use can be a real fire hazard and create draft. If you desire to keep the fireplace be sure to have it inspected and cleaned before use. Inquire about alternate means of creating a cozy atmosphere without burning wood with modern gas appliances and fixtures.
Victorian roofs were dressed in wooden shingles nailed onto batten boards that lie upon the redwood roof framing called rafters. Both the wooden shingles and the batten boards are easily visible from the attic. If the home has a newer roof check to see if the batten boards were replaced with plywood. If not, you may have multiple roof layers. This is not ideal roof construction. If the roof condition is questionable, heed the advise of the inspector and have a reputable roofing contactor provide an estimate on the remaining useful life and costs to replace the roofing including the gutters, downspouts and metal joint surrounding roof connections called flashing.
Many homeowners of older homes choose to keep the original heating system. I would discourage this practice because these original floor furnaces are extremely inefficient and therefore costly to maintain, deliver poor air quality, and are common fire catchers. Central heating installed within the last 15 years is always a big plus and a modern luxury you can enjoy even in our temperate climate. Adapting Victorian framing to accept a ducted system is a trick and will require, yet again, a trusty expert in the field. But, it can be done and will appreciate the property nicely.
During the turn of the century, the light bulb replaced the gaslight, and almost every home in America was retrofit for electric power. Electricity was laced through the home on cloth wrapped wires. In today's older home, two-prong outlets and a tangled collection of extension cords, testify to the existence of a "knob and tube" electrical distribution system. Knob and tube wiring, as it's called in the trades, gets it's name from the way the cloth or paper wrapped wire is set up off framing on porcelain knobs and guided through framing members in porcelain tubes. Insurance companies often take issue with knob and tube wiring systems because of an associated risk of fire and electrical shock.
The first homes wired for electricity often had no more than two circuits. Modern homes require two circuits for just the kitchen counters alone. An original 110-volt service protected with fuses and delivered on knob and tube wiring cannot provide enough power demanded by our contemporary lifestyles. A two- wire electrical system quickly becomes taxed resulting in stray charge, blown fuses, and literally "hot" wires ripe to ignite the surrounding materials. If your Victorian has not had the electrical system upgraded with breakers, grounding and devices to prevent users from shock, plan on calling an electrician and putting this project on the priority list.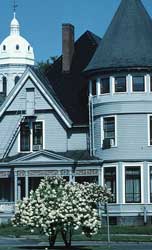 Most homebuyers during the Victorian age were born in homes without indoor plumbing. Therefore, Victorian bathing rooms and kitchens were highly decorated celebrating the family's class and amenity of hygiene. The claw tubs, washtub lavatories and the high-seated pastel colored waterclosets are of excellent quality and quite collectable. Yet, waterworks of yesteryear still have much to be desired.
Lead, clay and oakum are obsolete piping materials whose replacement costs are considerable. Find out if these materials are still in use even if you need to get an expert to remove finishes here and there to get a better look. Investigative demolition may not be possible before purchase but should certainly be considered before remodeling. And, unless the Owner can verify replacement of the entire sewer line, have the sewer lateral video screened. Most established plumbing companies provide for these services in short notice and at a reasonable cost. The $150 fee is easily justified if before sale the sewer line is determined unsound and ineffective!
But, don't worry - it's not all discouraging words. There is always someone who will pay top dollar for an adorable Victorian! Unfortunately, in current real estate market, the Owner may be unwilling to invest capital on corrective measures before the sale. Be knowledgeable and aware; older homes hold secrets from an era long gone and a multitude of previous owners. And, take care to budget for time and money (otherwise known as sweat equity) before taking hold of the keys or being swept away by the American dream.
Submitted by Certified CREIA Inspector Dawn Anderson