KITEC Water Supply Piping and Brass Fittings: What You Need to Know
by Rick Hartmann        Home Inspection Plus, Inc.       Lincoln, CA     5/15/16
If you have not heard about 'KITEC' yet, you probably will sooner than later. KITEC is a brand of water supply pipe and brass fitting which was manufactured by Canadian pipe manufacturer IPEX.  The brass fittings were produced from 1995 until 2005, when IPEX issued a recall on the fittings due to failures. In December of 2007, IPEX also discontinued the manufacturing of KITEC piping and sent notices to all of its distributors, notifying them that they should send any unused product back for a refund. One could expect the piping continued to be installed in homes into 2008.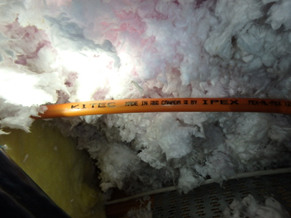 The primary issue is 'dezincification' of the brass fittings. The problems first became apparent in Clark County, NV where approximately 30,000-35,000 homes, which were plumbed with KITEC systems, began leaking.  According to court filings in Clark County, zinc was leaching from the brass fittings and collecting in the pipes, restricting flow and eventually resulting in leaks. IPEX settled a class action lawsuit in Clark County for $90 million in 2009. Las Vegas is notorious for its hard water and that probably played a major role in the deterioration of the fittings. Even small amounts of zinc can cause galvanic corrosion with the aluminum in the piping, resulting in failures. Numerous other class actions followed. If you search 'KITEC Pipe' on the Internet, you'll find hundreds of stories about leaks, costing homeowners thousands of dollars to re-pipe their homes.

KITEC pipe and fittings were also widely used in California. In a Del Webb Community in Lincoln, CA, approximately 2500 of the 6800 homes there have KITEC installed. While until recently, I had not heard reports of KITEC failures in this community; leaks are starting to develop, as well as other communities where KITEC is installed. 3 leaks in 3 separate homes on the same street occurred within a 2-week period.  In speaking with a resident of this community, she reports that several of her neighbors have experienced leaks. Their yahoo chat group is abuzz with stories of plumbing leaks. Last week, I paid a visit to BZ Plumbing in Lincoln. They were Del Webb's plumbing sub contractor that installed most of the KITEC piping. When these homes were built, no one knew of any concerns. According to the office manager at BZ, they receive phone calls daily from Del Webb residents asking about KITEC, reporting leaks and requesting bids for re-pipes.  Rumor has it, that several other local plumbers are busy with KITEC re-pipes. As of this writing, BZ is booked with re-pipes for the next 3 months. BZ reports that the piping is splitting and becoming delaminated. They haven't seen much dezincification of the fittings, like the ones in Las Vegas, but rather that the piping is failing. KITEC piping has a layer of aluminum, sandwiched between 2 plastic layers (PEX-AL-PEX or PE-AL-PE). In my opinion, the slight amount of zinc leaching from the fitting, is coming into contact with the aluminum middle of the pipe, resulting in corrosion.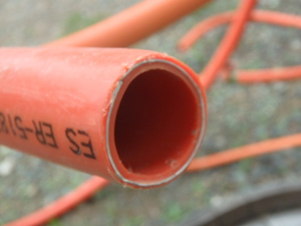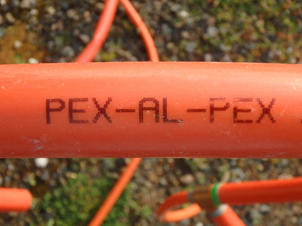 Unfortunately, the only cure to prevent leaks in the KITEC water supply system is to remove it all from the home. It is not a question of if it will fail, but when. I have heard reports of people stating that only the fittings need to be replaced, however, that is not true. No other fittings are compatible with KITEC piping. Push fit fittings (SharkBite) do not fit KITEC piping. It would also be foolish to try to replace fittings and continue to use piping, which in my opinion and statistical information, is equally problematic. I have heard reports of plumbers installing pressure regulators and dropping the homes water pressure to 40 psi. That won't buy you more time.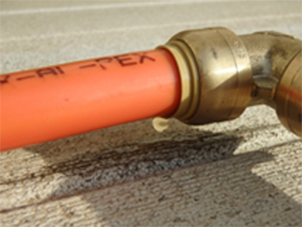 If your home or the home you are looking to purchase was built between 1995 and 2007/8, make sure you identify the water supply piping. Most homeowners are not aware of the brand of water supply piping that is in their home and therefore, wouldn't disclose it. It is usually only visible in the attic, if at all. The cold water supply lines are blue and the hot water supply lines are orange. All of it has 'KITEC' and 'IPEX' printed on it. The fittings are labeled with 'Kitec' or 'KTC' stamped on them.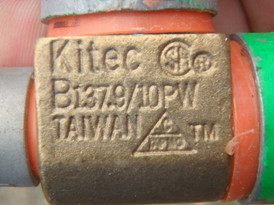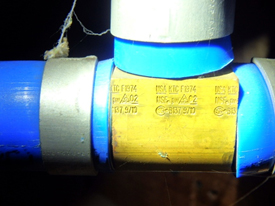 While CREIA inspectors are required to inspect the water supply piping in visible areas, they are not required to identify the brand or determine if it has been subject to any recalls or class action lawsuits. You should ask your home inspector what type of water supply piping is installed and ask them to identify it, if they can. Often, you can find a sticker in main electrical panel which may provide a clue. However, this sticker is not always accurate, as it is only there to alert the electrician of plastic water supply piping being installed. Plumbers have different stickers from different PEX manufacturers on their trucks, and it doesn't necessarily mean that a KITEC system is installed if there is a KITEC sticker in the panel. Even though copper piping is sometimes visible at water supply valves under sinks, that just may be a copper 'stub-out' connected to PEX piping in the walls. It doesn't mean that the water supply piping is all copper. Often, the only place where the water supply piping can be identified is in the attic. Sometimes, the water supply piping is not visible due to it being buried in insulation or contained in the walls and not even installed in the attic. CREIA inspectors should note on their report that the water supply piping was not visible if they couldn't see it. It's beyond the scope of the inspection to dig through insulation to try and find it. It's certainly beyond the scope of the inspection to pry back escutcheons or poke holes in the walls. You may wish/need to have a plumbing contractor take a look, which would probably involve an invasive inspection.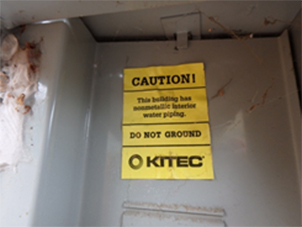 For homeowners who have KITEC piping installed in their homes, there is some relief. A $125 million settlement fund for US and Canadian residents (excluding Clark County, NV), which became final in 2012 is accepting claims until Jan 9, 2020. According to www.kitecsettlement.com a claim form can be submitted, even if you have not experienced a leak. I haven't heard reports of how much anyone has gotten who has submitted a claim. One can expect a re-pipe in a 1500 sf, single story home to cost approximately $8000-$12000. Possibly more, depending on the complexity and if any of the piping is installed under the slab.