In This Issue

---
Quick Links

Membership Information &
Quick Links
CREIA Affiliate Member Directory

---
2018-2019
Board of Directors


Steve Carroll, MCI
Chairman of the Board
Ken Collins, CCI
Immediate Past Chairman

Bret Husted, CCI
Vice Chairman
Region Three Director

John Gamache, CCI
Treasurer
State Director

Craig Russell, CCI
Secretary
Region Eight Director

Todd Edly, CCI
State Director
Greg Terry, CCI
State Director

Peter Nusser, CCI
Region Two Director
Taylor Vreeken, CCI
Region Five Director

Bob Guyer, MCI
Region Six Director
Bill Bryan, CCI
Region Seven Director


---
CREIA Chapters Listserv

Delta

Greater Sacramento

Shasta Cascade

Golden Gate

North Bay

San Fran Peninsula

Silicon Valley

 Tri-Counties

Kern County

San Joaquin Valley

San Luis Obispo

Greater San Gabriel Valley

L.A. / Ventura County

LA. Mid -Valley

L.A. West/South Bay

Inland Empire

Orange County

Palm Springs

North SD/Temecula

San Diego
Please note that you must be subscribed to the listserv in order for your email to be sent. To add or remove yourself from a listserv, edit your communication preferences in your profile.
---
Premier Affiliates
InspectorPro Insurance
Radalink, Inc.
Spectacular Home Inspection System
United Infrared
---
CREIA Office
Michele Blair
Executive Director

Morgan Burke
Assistant Director

Office Hours
9:00 a.m. to 5:00 p.m.
Monday through Friday
P 949-715-1768
F 714-632-5405
[email protected]
www.creia.org

Mailing Address
320 Pine Avenue, Suite 1050
Long Beach, CA


---
CREIA Roadshow - All About HVAC May 2019
---
Social Networking
From the Boardroom
Hello everyone,
It's hard to believe that I'm past the 2/3 mark of my term as Chairman. It has been my privilege to serve CREIA in this capacity and I feel confident that we are moving CREIA in the right direction and delivering a short and long term plan to keep CREIA thriving. Thank you for your membership and participation in CREIA.
Planning & Priorities
The Board will be voting on the Strategic Plan at the next board meeting on April 1. The plan includes the priorities established by the member survey as well as ideas and direction from the board in a two-day strategic planning session. It is a tall order and we will need more members to actively participate to fulfill these objectives. I welcome your participation. The plan includes:
Additional and enriched educational programs, including webinars and video conferencing;
Improving membership numbers; Value-added communication; Additional Chapter support and adding Affiliate members; Building better partnerships; Enhancing marketing and branding efforts; and Improving the culture of mentoring.
Upon official adoption by the board, the Strategic Plan will be publicized and executed.
There are a number of recent activities and upcoming events and policies that are taking place. As a member of CREIA, please plan to participate and communicate. This eNews outlines some of these activities. We are interested in hearing from you. Your membership counts and is what makes CREIA the leader in the industry. As your Chairman, I appreciate that you have chosen this association for your professional training and comradery.
All the best,
Steve Carroll
Chairman 
---
Education & Events at ASHI InspectionWorld¿ 
The CREIA/ASHI/CHILAC Reception was well attended and everyone seemed to enjoy catching up with colleagues. We appreciated the support from so many which resulted in a nice windfall for CHILAC close to $4000. Thank you to our Flagship sponsor Radalink, represented by Terry Howell. We are most appreciative of their support of CREIA in such a big way. Other supporters included Always Sparkling Poo & Spa, ASI Heating, Air & Solar, CheckItOutProperty Inspection, InspectorPro Insurance, Michael Casey & Associates, Monroe Infrared and four CREIA chapters - Delta, Greater Sac, NCTV and Silicon Valley. There were also several contributions on site - thank you to all of you who supported CHILAC!

CREIA Chairman Steve Carroll along with Past Chairman Ken Collins and ED Michele Blair attended the Allied Association Meeting held by ASHI. It was a great opportunity to exchange ideas with affiliated industry representative and home inspection leaders from across the country as well as Canada. 
---
CREIA Initiative - Background Checks
All CREIA members will soon be notified about the new policy to institute background checks for all Associate, CCI and MCI members. CREIA leadership has spoken with leaders at CAR and there is mutual agreement that actively marketing this added credential will raise the standard of CREIA inspectors even more and lead to more referrals by Realtors to CREIA inspectors. It is the hope of the board that this will result in an added value to all of our members and create an atmosphere of trust with CREIA's members clients.
---
Legislative Report
David Pace MCI, IF
Chairman Legislative Committee
February 22 marked the deadline for the introduction of bills for the new legislative year.  Over 2,000 bills were introduced.  Of the 2,000 plus bills Jerry Desmond, our Legislative Advocate, has identified 209 bills for further review.  Many of these bills deal with various aspects of housing which has been identified by Governor Newsom as a priority.  Of the 209 bills there is one of particular interest to CREIA.  It is Assembly Bill 1024 (AB1024 - Frazier) which takes up licensing of home inspectors.  The text of the bill as currently written is as follows:
SECTION 1.
Section 7195.1 is added to the Business and Professions Code, to read:
7195.1.
(a) Beginning January 1, 2022, a person who performs home inspections, as defined in Section 7195, shall obtain a license from the Contractors' State License Board.|
(b) The Contractors' State License Board shall establish criteria for licensing home inspectors under this section, including setting reasonable fees for licensing and renewal.
(c) The registrar shall have the authority to enforce these licensing requirements.
(d) This section shall not apply to a person performing home inspections who is a licensed general contractor, pest control operator, architect, or professional engineer.
It is clear the bill lacks specificity.   As currently written CREIA will oppose the bill.  CREIA has always maintained the position that any legislation CANNOT lower the bar.  Our responsibility is protection for the consumer.  CREIA has the most rigorous home inspector certification requirements in the state.  Any licensing cannot fall short of those standards and gain the endorsement of CREIA.
As a starting point CREIA believes Licensing must include:
Education - Both before licensing (to pass any required exam) and continuing after licensing to sharpen the skills of the inspector. 

A proctored certification exam that is psychometrically valid.  CREIA believes the NHIE  exam currently used by CREIA and ASHI represents such an exam.

Errors and Omissions and liability insurance requirements.

Criminal background checks.

A defensible Standard of Practice.
There are many other questions to be considered.  Those could include answers to the following questions.
Who should oversee the licensing of home inspectors.  The bill suggests the CSLB.  Are they the best choice?

Should there be minimum experience requirements?

Should there be an apprentice program?

Should there be grandfathering of existing home inspectors?

What level of experience should be grandfathered?

What would be a reasonable per year inspector cost for the licensing?

What should be the level of continuing education requirements?

Who should oversee the continuing education requirements?

Should licensing require CREIA, ASHI or other association membership?
There are also concerns with the bill as written.  The bill exempts  "a person performing home inspections who is a licensed general contractor, pest control operator, architect, or professional engineer".  The obvious question is,  Do these exempted individuals have the required experience to properly protect the public?  Does a pest control operator have the background and experience to inspect electrical panels?  A general building contractor can surely evaluate framing.  Is a general building contractor qualified to evaluate plumbing or roof flashing? 
There is little "meat on the bones" of this bill.  This is an opportunity for CREIA.  We anticipate the bill will be subject of many revisions.  Through discussions, meetings and position papers we hope to provide positive input in shaping this legislation.
---
Taking the NHIE Exam?
The CREIA Prep Course for those preparing for the NHIE exam has kicked off. There were 36 registrants prior to the first meeting of the virtual study group on February 27! If you are an associate, this is an excellent study group that will be ongoing for 17 weeks - a week per chapter of the preparation book. We invite you to check it out. Go to: https://www.creia.org/nhie
We had very positive feedback last year from several that passed the exam after participating in the CREIA course. Many, many thanks to Bill Bryan and Taylor Vreeken for co-chairing this study group.


Roadshows
CREIA will be working with various Chapters this year to co-host educational "Roadshows." It is recognized that the CREIA membership seeks ongoing quality Educational Seminars to maintain the high standard of leadership in the Home Inspection profession. It is also recognized that proceeds from these seminars provide a significant contribution to offsetting the organization's operating expenses. To that end, the net proceeds for these outstanding educational seminars will be split with the Chapter and with CHILAC to support CREIA advocacy efforts. Bob Guyer and Sam Jabuka are leading the planning of these events. If you have an idea for a Roadshow, please forward a description to [email protected]. What educational program would get you excited to hear and attend?

Basic Heating, Cooling and Residential Ventilation Systems
Hosted by the Delta Chapter of CREIA
Presented by Daniel McLaughlin
This NEW Presentation is based on the 2016 California Building Code Enhancements
Thursday, April 4, 2019, El Patio Restaurant, 7:30 AM
12005 E. Pescadero Ave., Tracy, CA. 95304
To register, go to: https://creia.memberclicks.net/index.php?option=com_mc&view=mc&mcid=form_260424

Topics will include:
Basic mechanical requirements
Venting of appliances & chimneys
Residential ventilation systems
Residential heating & cooling systems
Gas piping
Combustion air
Condensation waste
Heating & cooling ducts
Earn 7 CECs!
All about HVAC
Co-hosted by Inland Empire & Palm Springs Chapters
Presentation by: Dan McLaughlin
Thursday, May 2, Simpson Strongtie
12246 Holly St N. Riverside, CA 92509, 8 AM
To register, go to:
https://creia.memberclicks.net/index.php?option=com_mc&view=mc&mcid=form_260750
Dan McLaughlin began his construction career in 1975 as a Journeyman carpenter working on commercial and industrial buildings in Southern California. Due to a work related injury he changed his career and went to work for the City of Los Angeles as a Residential Building Inspector. In 1979, he was offered a job in Santa Barbara, CA as a Combination Residential Inspector. During that time, he was fortunate to work closely with a Senior Plumbing and Mechanical Inspector who had been a 30 plus year union contractor. In 1985, he was promoted to Building Inspection Supervisor over seven inspectors. His duties included performing plan checks; inspection of complex buildings; preparing yearly budgets; preparing training classes and evaluating employees. As a supervisor he continued to take code classes in plumbing and mechanical. In 1996, he went to work for the City of Ventura as the Senior Plumbing and Mechanical Specialist. His duties included plan checking and inspection of all commercial and multi family projects and provide plumbing and mechanical training for the inspection staff. In 2002, while working in Ventura, a local community college offered him a position as their Plumbing and Mechanical Instructor. The classes were formatted to train and educate inspectors, homeowners, architects and contractors on the standards of the current editions of the Uniform Plumbing and Mechanical Codes. From 2005 to 2010, he was employed by the City of Goleta, California as their Building Manager, responsible for plan checking and inspection of all residential and commercial buildings for code compliance disabled access standards; code adoption; yearly budget and in house training of employees. He is currently providing contract services as a Senior Combination Inspector for the City of Calabasas and continues to teach at a local community college, as well as provide training programs for inspection organizations such as ASHI and CREIA.
All about Heating Ventilation and Air conditioning and Combustion and make up Air requirements - 7 CECs
---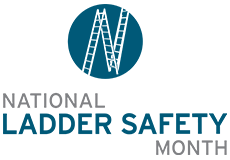 Individuals and companies across the country are coming together to promote ladder safety and decrease the number of ladder-related incidents. National Ladder Safety Month is the only movement dedicated exclusively to the promotion of ladder safety, at home and at work. From February 24 - March 31, #LadderSafetyMonth will heighten awareness, reinforce safety training and educate homeowners and working professionals. This week, we are focused on answering the question, what is ladder safety?
Why should you take ladder safety seriously?
Every year, more than 100 people die in ladder-related accidents, and, every day, 700+ ladder-related injuries occur. Missing that last step and overreaching are the two most cited causes of ladder accidents. These and similar types of accidents can be easily avoided by adopting safety precautions.
How can you take ladder safety into your own hands?
The American Ladder Institute (ALI), the sponsor of National Ladder Safety Month, is committed to keeping safe ladder use top-of-mind all year long. Go to this link to source the extensive resources available to you.
---
Welcome to our Newest Members!
CREIA Affiliate
Reuben Spilkin - Paul Davis Restoration of North County San Diego
CCI Members
Blake Bishop - SafeHome Inspections, LLC
Clark Gerdes - Advanced Group Property Inspection Company
Abe Kazimierek - Inspection Excellence, LLC
Jesus Lugo - Secure Property Inspections
David Nguyen
Associates
Ansary Aboubakare - Custom Homes Contractor
Aaron  Avitan
Brett Bedillion
Justin Cucciare
Allen Degrandmont
Michael Doose - Inspect Your Nest
Blake Elliott
Nick Felton
Matt Gray - All Home Inspections, Inc.
Jesus Guevara Jr
William Key - Carkey Enterprises, LLC
Jeremy Kilpatrick
Christopher  Kulhanek - Home Love Inspections LLC
Danial Lakayan
Kenneth Lord - Near Perfection
David Mcdonnell - About Town Home Inspection
Steven Mills - Sea To Sky Inspections
Richard Wilson - Construction Management Cost LLC
---
Please click here to learn more about InspectorPro!